Meet the Creators
The Molecularium Project brought together a diverse team essential for the design of the project.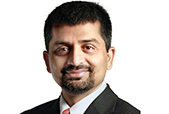 Shekhar Garde
Executive Producer
Shekhar Garde: The Dean of Engineering, the Elaine and Jack Parker Chaired Professor and formerly Head of the Department of Chemical and Biological Engineering at Rensselaer. His research focuses on understanding the role of water in biological systems using tools of molecular modeling and simulation. He has published over 60 articles. He has received several awards including the prestigious NSF CAREER Award (2001), School of Engineering Research Award (2003), and Rensselaer Early Career Award (2004).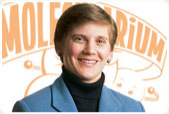 Linda S. Schadler
Executive Producer
Linda S. Schadler: Formerly the Russell Sage Professor in the Department of Materials Science and Engineering at Rensselaer. Her research focuses on polymer nanocomposites with emphasis on tailoring the mechanical, electrical, and optical properties by engineering the nanoparticle/polymer interfaces. She has published over 100 articles. She has won many awards and honors including the NSF Presidential Young Investigator Award (1994), the Geisler Award by ASM International (2000), and was elected a Fellow of ASM International in 2006. Most recently she won the coveted 2008 Outstanding Professor Award by the Rensselaer School of Engineering.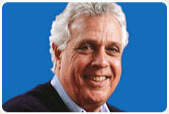 Richard W. Siegel
Executive Producer
Richard W. Siegel: The Robert W. Hunt Professor of Materials Science and Engineering and founding Director of the Rensselaer Nanotechnology Center and its NSF-Funded Nanoscale Science and Engineering Center for Directed Assembly of Nanostructures. He is a pioneer in the field of nanotechnology. His research focuses on the synthesis and processing, characterization, properties, and applications of nanostructured materials, including ceramics, metals, composites, and biomaterials. He has published over 275 articles, edited 10 books, and has presented over 500 invited talks worldwide on nanotechnology and related areas. He has received several international awards including an Alexander von Humboldt Foundation Senior Research Award (1994), a RIKEN Eminent Scientist Award (2001), a Deutsche Bank Prize (2003) and was named a Materials Research Society Fellow (2010). He is a charter member of the Giant Screen Cinema Association.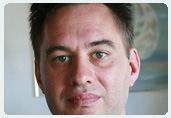 V Owen Bush
Writer and Director
V Owen Bush: A designer, producer, and filmmaker who uses immersion and participation to create transformative social experiences. His works are presented in venues such as live concerts and events, digital planetaria, IMAX3D, broadcast television, mobile devices, and the web. He is a member of the Omnisensorialist Federation and Immersionists. V has had a principal role in notable projects including: Pseudo Programs Inc., MTV's AMP, QUIET!/We Live In Public, SonicVision at the Hayden Planetarium, and the Molecularium Project at Rensselaer. As a freelance motion designer, V has developed broadcast television promos for NBC, MTV, VH1, PBS, Nickelodeon, Showtime, Discovery, History Channel, NY1, and others. V is a co-founder of Glowing Pictures, a company whose work includes televised concerts, music videos, commercials, multimedia operas, and visual environments. Glowing Pictures' clients include Vh1, MySpace, the Beastie Boys, the Creators Project, Eyebeam, the American Museum of Natural History, Imagination and Lincoln Center, among many others.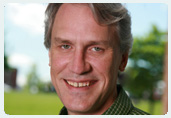 Kurt Przybilla
Writer and Producer
Kurt Przybilla: An inventor, educator, writer, and producer. He invented Tetra Tops®, the world's first spinning top with more than one axis of spin. These award-winning toys have been featured in the New York Times, Popular Science, Baby Einstein, Child and Discover Magazine, as well as at the Smithsonian Institute. In 2005, he co-founded the Bamboo Institute to develop innovative ways to utilize bamboo's potential to help solve a wide range of problems facing our planet. Kurt taught in New York City for over ten years. He also taught in Japan for three and a half years where he studied Japanese archery, flower arrangement, language and poetry. Since 2004, Kurt has been working with Nanotoon Entertainment on the Molecularium Project.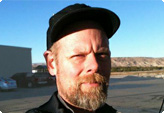 Chris Harvey
Art Director and Production Designer
Chris Harvey: An Emmy Award-winning art director who has created designs for an international roster of clients including MTV, VH1, NBC, ESPN, Vox Germany, Viva-Plus, The Smithsonian Institution, Hearst Publications, and The American Museum of Natural History. Additional awards include a Peabody, three Broadcast Design Association Awards, as well as recognition at film festivals in Chicago and New York. As art director for MTV, Chris generated countless on-air graphics for the network, moving on to direct broadcast design for Curious Pictures and Lee Hunt Associates in New York City. In 2003 he was the creative director for the Hayden Planetarium's full-dome animated music show SonicVision. Chris has also provided visual support to pioneer composers of long-form contemplative music, producing imagery for La Monte Young, Terry Riley, and David Hykes. Making art since childhood, Chris has shown paintings, drawings, and multimedia installations at galleries in New York City, Philadelphia, Korea, and the New York Capital Region.