To the delight of school teachers and parents alike, it has been clearly demonstrated that kids of all ages genuinely learn and retain an amazing amount of the educational content and thoroughly enjoy these entertaining experiences.
Independent analysts quizzed viewers before and after a screening of the show and found that the core concepts presented were firmly grasped by young audiences.
Results: An independent assessment of Molecularium – Riding Snowflakes from 1200 audience respondents (ages 6 to 69) found:
Total percentages of correct answers increased significantly for every age group after the show.
Percentage of correct answers for younger viewers more than doubled.
63 % gave the show a rating of 10 out of 10!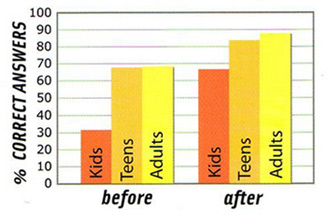 The Molecularium® Educator Resources provide activity-based lessons and hands-on experiments to explore the exciting nanoscale universe of atoms and molecules with your students. These guides address a wide variety of National Science Education Standards appropriate to the different grade levels. Student handouts help to guide discovery and reinforce key concepts. These guides can be used on their own or in conjunction with the films.
Educators, we want your feedback!
Downloads:
NanoSpace is an online theme park that teaches about atoms and molecules through games, activities and short animations. The following is an interactive guide for educators to easily find the NanoSpace content by topics.
Movies: